October 18, 2011
LeadingAge: Don't stop fighting for CLASS Act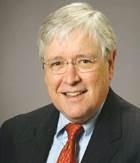 60 Seconds with...Larry Minnix
The Department of Health and Human Services may have shelved the CLASS long-term care benefit, but advocates of the program said mixed messages from the White House suggest otherwise. One major provider association said it would continue to fight to keep the program alive while another issued a statement Monday that was more resigned that the CLASS Act was all but dead.
In a letter to Congressional leaders late last week, HHS Secretary Kathleen Sebelius said the department has "not identified a way to make CLASS work at this time." She also wrote off the program in a personally bylined article in the Huffington Post on Friday. But in a briefing at the LeadingAge Annual Meeting on Monday in Washington, LeadingAge CEO Larry Minnix disagreed.
"There are paths forward. We are going to keep the discussion moving," Minnix said. "We're going to push the heck out of this."
LeadingAge sources said an unnamed senior White House official told them over the weekend that the administration had a misunderstanding and did not, in fact, intend to abandon the plan.
"They insist they haven't shut anything down," Minnix told the gathering Monday. "We asked them to be assertive that this is important. This is the time for public discourse, not the shutting down of discourse. The problem has to be solved, so why stop now?"
Connie Garner, the executive director of Advance CLASS, which advocates for the program, agreed passionately.
"It's not time to stop the conversation. The problem is not going to go away," she said. "We got caught in the financial way the government does business."
Meanwhile, the American Health Care Association, the nation's largest association for nursing home operators, expressed its disappointment Monday with HHS' decision to pull the plug on the program but seemed resigned that its fate was sealed.
"While AHCA/NCAL regrets to see such a critical program ceased, we appreciate the efforts the administration pursued in creating a sustainable long term care program," said AHCA President and CEO Gov. Mark Parkinson. But, he added, "now we are without a plan, and we cannot keep passing the buck."