February 26, 2013
LeadingAge and AHCA join ranks opposed to Medicaid cost sharing proposal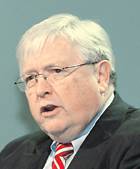 Larry Minnix, LeadingAge president and CEO
LeadingAge and the American Health Care Association have joined a growing list of organizations opposed to Medicaid cost-sharing provisions in the Affordable Care Act. More than 700 respondents submitted comments within the last month to the Jan. 22 proposed rule from the Centers for Medicare & Medicaid Services.
People eligible for Medicaid coverage under the ACA could be responsible for out-of-pocket healthcare costs of up to 5% of their total monthly income, the proposed rule states. This level of cost sharing could prevent seniors and other vulnerable groups from obtaining needed long-term services and supports — or could result in non-payment for services. The result would be poorer outcomes for patients and higher healthcare costs, said LeadingAge and AHCA in separate comments.
Increased cost sharing is not needed because Medicaid beneficiaries are being enrolled in managed care in greater numbers, and regulations make sure managed care entities carefully select care providers and "prevent unnecessary utilization" of Medicaid-eligible services, LeadingAge Director of Home and Community-Based Services Peter Notarstefano wrote in a Feb. 21 letter to CMS.
All comments to the proposed rule can be found here.