October 01, 2015
Lawmaker takes aim at the three-day stay requirement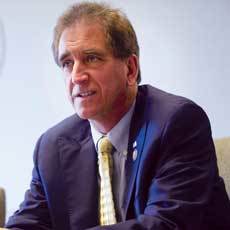 Rep. Jim Renacci (R-OH)
Rep. Jim Renacci (R-OH) blasted the three-day hospital stay rule during comments to providers Thursday, insisting it would be better to let physicians admit residents directly to skilled care facilities. He spoke during the National Investment Center for Seniors Housing and Care's annual meeting near Washington.
Renacci, who is a former operator, said many inside the Washington beltway erroneously continue to believe a policy change here would fuel rampant skilled-care admissions and higher healthcare costs. This view extends to the Congressional Budget Office, which has scored the option as a tax raiser. He said this perception runs counter to a growing mountain of evidence.
Renacci jousted amiably with Rep. John Delaney (D-MD) on issues that included raising the minimum wage, immigration reform and future regulatory oversight. While their respective views fell along partisan lines, each agreed that current policies and outlays affecting the aging are not sustainable. They also called on providers to position themselves as a health and housing option that helps seniors age successfully.
NIC CEO Robert G. Kramer added analytics will play a larger role in NIC research efforts, and promised that his group's future events would continue to foster deal-making and education.
Kramer noted that seniors housing and care options will continue to evolve and adapt to customers' changing needs and preferences.
"What you are seeing today will be boring conformity compared to what you'll see in the future," Kramer predicted.
Kramer denied rumors that he will soon step down from the organization he helped found a quarter-century ago.
The organization's 25th annual conference continues through Friday.