October 16, 2015
Katie Smith Sloan is the new LeadingAge president and CEO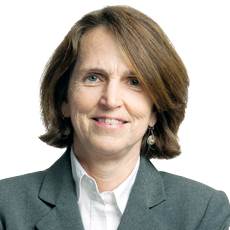 Katie Smith Sloan, LeadingAge
LeadingAge has promoted its chief operating officer, Katie Smith Sloan, to its top post: president and CEO.
Sloan will replace Larry Minnix, who is retiring at the end of the year. In addition to her COO duties, Sloan also is a LeadingAge senior vice president and the executive director of the International Association of Homes and Services for the Ageing (IAHSA).
LeadingAge, which consists wholly of nonprofit providers, conducted a nationwide search that involved hundreds of candidates and dozens of interviewees before determining their choice was somebody already in its employ.
"When all was said and done, it turned out the ideal candidate was right here all along," said LeadingAge Board of Directors Chairman David Gehm. The board unanimously approved Sloan's appointment at a meeting Friday in Chicago.
"I am deeply honored to be named as LeadingAge's president and CEO. Expanding the world of possibilities for aging is important, vital, and invigorating work and in the years ahead, older people will dominate our nation's census," Sloan said in a statement. Minnix told McKnight's last month Sloan was a "voice of stability."
"She never lets us forget our values," Minnix said. He said Friday there "is no question in my mind that she will take LeadingAge to the next level and beyond, and I look forward to watching both Katie and the organization excel."
Sloan is the subject of McKnight's Long-Term Care News' featured Profile story in its November 2015 print issue. Click here to see that article and learn more about LeadingAge's new top executive.