September 14, 2010
Kansas governor to take reins of AHCA in January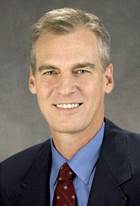 Mark Parkinson, AHCA president and CEO
The American Health Care Association has selected Kansas Gov. Mark Parkinson (D) to be its next president and CEO, the association said Monday.
Parkinson, who last year filled the governor's seat left by now-Secretary of State Kathleen Sebelius, will take the post in January following his term in office. He is not running for a full term. Parkinson succeeds Bruce Yarwood, who has held the position of CEO and president for five years.
Parkinson has been an owner and operator of long-term care facilities for more than 15 years both as the CEO of Ad Astra Development, LLC, in Olathe, KS; and chairman of the board, founder, and developer of Allen Park, Inc., Allen Park Two, Inc., and Allen Park Three, Inc., AHCA said. He has helped develop 10 separate facilities in Kansas and Missouri, according to AHCA.
"In this new era of health reform, Governor Parkinson's deep background in this sector coupled with his policy expertise, will serve our members well as we look to future challenges," said Robert Van Dyk, chair of AHCA's Board of Governors, in a press release.