July 01, 2010
It's good to be home: Choosing durable yet homelike furniture for smaller long-term care facilities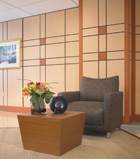 It's good to be home: Choosing durable yet homelike furniture for smaller long-term care facilities

Green House and "neighborhood" communities are being built with increasing frequency in both the assisted living and skilled nursing sectors to give residents the feeling of truly being home. But with that laudable goal comes the responsibility of creating environments that convey the warmth, familiarity and comfort of a family home—not a larger long-term care institution.


Selecting the right furnishings is a major piece of that mission, and finding the appropriate pieces goes beyond ordering ordinary institutional stock. Furniture is the centerpiece of the décor and the personality of each room. It is also a key part of the infrastructure of dwellings like these.

The Green House Project Executive Director Robert Jenkens maintains that long-term care culture change brought on by new-phase housing is influencing the way furniture manufacturers develop their product lines.


"In general, the long-term care industry is realizing that living in what looks and feels like a hospital isn't appealing to people," he says. "Furniture manufacturers are responding to the overall emphasis by the industry to create a more residential environment, so furnishings are moving in that direction.

Choosey users


As a result of the new long-term care climate, Jenkens says furnishings "have to be close to perfect because elders and their families are attuned to the signals in their environment."

The style is crucial, he says, because "it says either, 'This is your home and you belong here' or it doesn't. So the concept of just being 'homelike' isn't really getting us where we need to go. People have to feel like they are truly home and that they belong."


The key to creating an inviting atmosphere is finding furniture styles that residents might use in their own homes. Yet they also must boast the extra features needed in congregate care, Jenkens says.

"There is a great need in the market for furniture that truly looks like it belongs in a home but has the performance for a long-term care setting in terms of durable fabrics, antimicrobial properties and finishes that are highly resistant to wear and tear," he says. "I have seen some pieces that fit this description, but not entire lines."


Jenkens acknowledges the difficulty in meeting the threshold of aesthetics and durability for certain furnishings, such as beds.

"Most Green Houses use hospital beds because they can handle the most demanding care needs," he says. "But it is hard to find one that doesn't look like it belongs in a hospital."


Other pieces, such as dining room tables, are often custom made. And while providing the bulk of the furniture is the organization's responsibility, Jenkens says facilities must also make room for residents to bring in some meaningful pieces from their own homes.

"This is the touch that helps make it their own home," he says.


Green House and neighborhood models are definitely spawning an evolution in healthcare furnishings, says Terri Prokup, design project manager for Stevens Point, WI-based Joerns.

"Our new case collections offer a variety of more 'hospitality' looking pieces, along with contemporary upholstered furnishings and tables," she says. "These fit well into the neighborhood application and offer the residents many more options to remind them of home."


The key to furniture design for these neighborhood areas, according to Prokop, is "to convey beautiful design lines that are pleasing to the eye, as well as complete functionality for the resident they are caring for. When we design new pieces, we are very cognizant of the design and the functionality within the facility."

Ask the residents


It makes sense to get the residents' opinions on what type of furnishings they would like since they are the ones who live there. Episcopal Retirement in Cincinnati does just that, holding regular meetings to ask residents of the organization's Deupree Cottages about their design preferences.

At the gatherings, residents are given a dozen or so magazines, along with pens and paper, and are asked to point out the furnishings and design schemes they like.


"We want them to show us what it visually means to them when we say 'home,'" says Laura Lamb, vice president of residential housing and healthcare. "Most of them have furnishings or a color scheme in mind. They respond by tearing out pictures of living rooms, dining rooms and kitchens. What has become obvious is that there isn't one meaning, but multiple definitions of what 'home' is."

The Episcopal campus has two Deupree cottages, each with 12 residents. One cottage theme is a Sears Craftsman home, while the other is done in English Tudor style. Central to each cottage is the hearth room, designed to provide a homey gathering space around a central fireplace. The room is adjacent to open kitchen and dining areas.


Columbus, OH-based Design Collective Incorporated (DCI) created the interiors of both homes, paying special attention to details such as window blinds that can be easily operated by elderly hands, colors that are vibrant enough to be seen by aging eyes, and flooring transitions that residents can easily negotiate, DCI principal David Cooke explained.

"We made it a priority to find residential-looking furniture with heavy-duty qualities demanded by the healthcare setting," he says. "That includes contract-grade fabrics and materials that provide comfort along with being long-wearing, easy to clean and non-institutional in appearance."


Indeed, asking for resident input "can create excitement when determining future purchases," agrees Michael Zusman, CEO of Atlanta-based Kwalu.

"Allowing residents to choose between styles and offer feedback will generate 'good will' when the room is redesigned, making residents more likely to utilize the space," Zusman says.


Made to last

Selecting furnishings for the warm and inviting atmosphere of Green House and neighborhood models should include consideration of longevity as well as lasting appeal, Zusman says.


When looking for the right pieces, operators should look at how their day-to-day operations are affected by their spaces and work with the furniture manufacturers to ensure each product is tailored to their needs while maximizing space and efficiency, Zusman says.

Take Lourdes-Noreen McKeen Residence in West Palm Beach, FL, as an example. Kwalu's Zusman says the lobby and corridor space offered no place for guests to sit, and its wall protection stopped short of allowing for wheelchairs or assist carts to move through its crowded hallways.


After installing floor-to-ceiling wall covering, updated handrails and stylish table-chair ensembles, Zusman says the community found the right balance of form and function.

"Residents and staff can operate in full gear and guests can find seating nooks to relax amidst the busy space," he says.


The same form-function relationship applies to flooring, adds Keith Gray, director of technical marketing for The Mohawk Group in Marietta, GA.

"Coupling the technology of today's commercial carpet with the styles of [congregate] care is what we do well," Gray says. "These products reflect the synergies of care that exist in the Green House and neighborhood communities. The technologies used intrinsically throughout the construction of the product hide its ability to perform a variety of care scenarios yet still look inviting and complementary to the surroundings."


Design trends for small-scale long-term care environments mirror "boutique hotel lobbies and [are] a key influence on our product," Gray says.

Carpeting works well because it "de-industrializes the flooring and accentuates the living space," he says.


_____



Putting 'green' in Green House

Choosing the right furnishings for a Green House or neighborhood-style community can mean making a socially responsible decision, on top of other important selection criteria. In other words, a Green House can be truly "green" in some ways.

Forest Grove, OR-based Woodfold, for example, makes doors, shutters, book cases and other wood-based products, but environmental preservation is a major part of its promotional message.

"We specifically are touting the utility and renewability of wood," says Justin Norman, vice president of sales and marketing. "We are continuously striving to reduce our impact and footprint and we tout that to the marketplace routinely."

Certified by the Forest Stewardship Council for several product lines, Woodfold has won numerous environmental awards for its efforts. In 2009, the company established a Green Purchasing Guide to help employees with purchasing authority maximize the opportunities during the purchasing process that benefit both organizational efficiency and the environment.

The message to the long-term care industry is that operators need to "think outside the box, find materials that are aesthetically pleasing while reducing overall space footprint," Norman says.

By working with "green" manufacturers, long-term care providers can play a major part in the goal of "zero environmental impact" from their communities, he adds.