February 04, 2016
Hopping house guests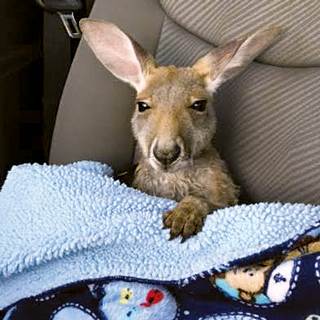 Hopping house guests
Therapy animals and nursing homes seem to go hand in hand — or hand in paw. But a Utah veterans home has been making headlines for its practice of bringing some incredibly bouncy buddies into its halls.
Over the past 16 years, Noralyn Kahn, the administrator at William E. Christoffersen Salt Lake Veterans Home, has raised 14 kangaroos at the facility — with some help from the residents, of course.
"They absolutely love it. It's all they talk about," Kahn told McKnight's.
The kangaroos come to the facility when they're babies, weighing around five pounds. Residents get to hold and help keep the marsupials warm until they're big enough to hop around the facility on their own.
The kangaroos tend to get more aggressive as they grow, Kahn says, so they're moved out of the facility and onto a farm after a few months. The facility also is home to a few cats, poison dart frogs, and a 125-pound tortoise.
Kahn's creatures, including current kangaroo-in-residence Charlie Brown, have had a profound effect on not just residents but visitors as well.
"Grandchildren who are afraid to come to the nursing home because of the machines, or because Grandma isn't acting like she usually does, they come here to see Charlie," Kahn says. "Residents who are kind of not even here will come back for a pet. It's amazing."