August 22, 2012
Health Care REIT acquires Sunrise in deal worth $1.9 billion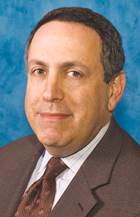 Sunrise CEO Mark S. Ordan
Health Care REIT Inc. will acquire Sunrise Senior Living for $844.6 million in cash, the company announced Wednesday. The merger reflects a real estate value of about $1.9 billion.
Under terms of the transaction, which will create one of the biggest senior living companies in the United States, Health Care REIT said it is acquiring all of the outstanding common stock of Sunrise for $14.50 per share. The deal represents a 62.4% premium to Sunrise's closing stock price on Tuesday, Sunrise said.
It marks the latest in acquisitions for the Toledo-based REIT, which has made 22 takeovers since the beginning of 2011, according to The New York Times. The merger will add in Sunrise's 20 wholly owned seniors housing communities and Sunrise's interest in joint ventures that own 105 seniors housing communities.
But despite its portfolio, Sunrise has struggled in recent years, losing $23.4 million in the past year.
Health Care REIT Chairman and CEO George L. Chapman says the acquisition reflects the company's intention to attract private pay seniors in affluent U.S. markets, and complimented Sunrise for being a leader.
"This transaction positions us to build on our collaborative, relationship based investment philosophy and benefit from the ongoing transformation of the sector," Chapman said in a statement. "There are few opportunities to acquire assets of this quality in a transaction of this scale."
"We are proud that Health Care REIT has chosen to invest in our team and looks to us as partners going forward," Sunrise CEO Mark Ordan said in a statement.
The companies are expected to close on the deal in the first half of 2013, pending approval from Sunrise shareholders.