December 15, 2010
HCP buys HCR ManorCare for $6.1 billion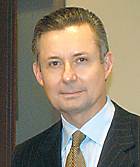 HCR ManorCare Chief Operating Officer Stephen Guillard
Real estate investment trust HCP Inc. is purchasing the real estate assets of HCR ManorCare from The Carlyle Group, a private-equity firm, for $6.1 billion. The transaction is the largest U.S. REIT deal in three years, according to Bloomberg data.
The HCP acquisition of HCR ManorCare includes $3.5 billion in cash, $1.7 billion in debt and $852 million in stock. HCR ManorCare will continue to operate its facilities. HCP's portfolio contains 670 properties, which include senior housing, medical buildings, nursing homes and hospitals.
HCR ManorCare operates more than 300 hospital rehab, nursing home, assisted living and long-term care facilities. The Carlyle Group completed its own acquisition of Manor Care at the end of 2007 in a deal worth $6.3 billion, the Washington Business Journal reported.