July 13, 2010
Governors convene on budget, Medicaid concerns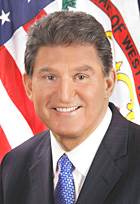 Gov. Joe Manchin (D-WV)

The nation's governors met in Boston recently to discuss budget matters. They also continued to push for more federal Medicaid funding, but some governors are losing enthusiasm for such assistance, according to news reports.

Though a large majority of governors still support the extension of Medicaid assistance through June of 2011, some governors have begun to express reservations about the funding. The National Governor's Association did not send a new letter of support for the federal funds due in part to mounting pressure from Tea Party activists who oppose any new deficit spending, The Associated Press reported. Among Democrats who are lukewarm about such funding is Gov. Dave Freudenthal (D-WY). He suggested that governors should attempt to change the public's view of what government should pay for, according to the AP.

The NGA also changed leadership at its summer meeting. Gov. Joe Manchin (D-WV) took over as chairman, replacing Gov. Jim Douglas (R-VT). Gov. Dave Heineman (R-NE) was named vice chair.