August 01, 2012
GOP pledges to fight on after vote saves healthcare reform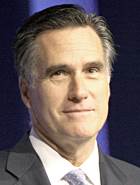 Mitt Romney

Who says one vote doesn't matter? The Supreme Court preserved the Affordable Care Act because a conservative judge decided that a liberal president's expanded healthcare program was worth saving.

It was a surprise to many that Chief Justice John Roberts sided with the court's four liberal justices. Some suggested he wanted to preserve the court's legitimacy. Critics of the court had complained that it had simply become a rubber stamp for the GOP. Roberts' vote would seem to put that accusation to rest.

Regardless, his vote saved the Affordable Care Act. But that hardly means it is here to stay. House Republicans have voted more than 30 times to overturn the measure. And Mitt Romney, the GOP presidential frontrunner, has said repealing the law would be one of his first acts, if elected.

For providers, the major issue in the ruling concerns Medicaid's future. In rejecting the ACA's requirement that states had to buy in to expanded Medicaid services or be penalized, the justices said little about the remaining options for naysayer states.

Also being debated is whether existing Medicaid statutes can be altered. So far, the Department of Health and Human Services is saying no. But there is growing speculation that the nation's highest court may have to eventually resolve this matter as well.