December 01, 2015
GAO calls for more oversight, data for nursing homes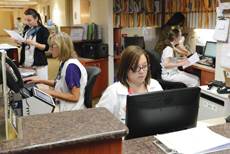 Federal staffing data based on payroll figures will become the new norm in 2016.

The Centers for Medicare & Medicaid Services needs to address issues with its data collection in order to give a better picture of nursing home quality, a new report from the U.S. Government Accountability Office recommends.

The report, released Monday, says the data CMS currently collects shows "mixed results" when it comes to providing quality information for nursing homes. Although CMS has made changes to its oversight activities over the past years, the agency has fallen short of monitoring the effects those changes have on nursing home quality, report authors say.

The GAO cited recent trends in four data sets that show conflicting findings on nursing home quality. One data set, consumer complaints, indicates that consumers' concerns over quality have increased in recent years. Three other sets — staffing levels, deficiencies and clinical quality measures — signal a potential improvement in overall quality.

Those discrepancies "make it difficult to determine whether observed trends reflect actual changes in quality, data issues, or both," the report said.

The report's authors stressed the importance of quality data to the implementation of the value based purchasing program, set to start in fiscal year 2019.

The GAO advised CMS to create a "clear plan" for auditing self-reported data, and to implement a process for assessing the effects of oversight modifications. A consistent modification monitoring process is also needed to address oversight changes made by state agencies that could have potentially harmful effects on CMS' ability to oversee nursing home quality, the GAO said.