June 03, 2015
Former therapy provider gets 75 months in prison for fraud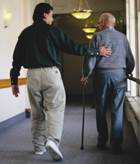 Physical therapy
The former owner and operator of an Illinois physical and respiratory therapy company has been sentenced to 75 months in prison for his involvement in a $2.5 million healthcare fraud scheme.
Ankur Roy, of Miami Beach, FL, was sentenced Friday to more than 6 years in prison, followed by three years of supervision after his release. He was convicted of submitting fraudulent claims to Medicare and Blue Cross Blue Shield while he was the head of Selectcare Health Inc.
Prosecutors say Roy and two co-defendants, Dipen Desai and Akash Patel, received $2.5 million in claims between March and May 2011 for respiratory services that were never provided. As part of his sentencing, Roy also will have to forfeit the $2.5 million gained from the fraud.
According to prosecutors, Roy came up with the scheme as way to get himself and his co-defendants out of debt, and used his $600,000 share of the defrauded funds to pay for personal expenses including credit card bills and student loans.
Roy, Dipen and Patel were charged with six counts of healthcare fraud in 2013. Desai was sentenced to 27 months in prison in December 2014; Patel is scheduled for sentencing in July.