May 31, 2017
Former CMS admins: Continued payment innovation testing 'vital'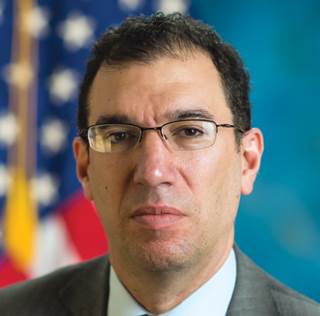 Andy Slavitt
The Centers for Medicare & Medicaid Services should continue testing healthcare payment innovation initiatives "in a focused and thoughtful manner," two former heads of the agency wrote last week in the Health Affairs Blog.
The blog post was penned by Andy Slavitt, who served as CMS Acting Administrator under President Barack Obama, and Gail Wilensky, former head of CMS' predecessor, the Health Care Financing Administration, under President George H.W. Bush.
Slavitt and Wilensky highlighted progress from the agency and its Center for Medicare & Medicaid Innovation, such as reaching its goal of tying at least 30% of Medicare payments to value-based models by the end of 2016, in their call for the new administration to continue testing. The agency is currently on track to meet its goal of having 50% of payments tied to alternative payment models by 2018, the pair reported.
CMMI has been previously criticized for its mandatory payment models and lack of tangible savings, and its future appeared uncertain following the election of President Donald Trump.
"Although the path to reforming the healthcare delivery system will prove difficult, the foundation has been laid and progress is being made," they wrote. "It will be vital for the federal government to maintain its commitment to ongoing investment in new payment and delivery models for federal health insurance programs, while sending clearer signals to other payers and healthcare providers."
According to the agency's estimates more than 207,000 healthcare providers and 18 million beneficiaries are currently participating in CMMI's payment models. Continuing alternative payment testing could help accelerate adoption of models that can improve care for patients while reining in cost growth, Wilensky and Slavitt said.
"We believe that the investment and model testing at CMMI must continue in a focused and thoughtful manner," the post reads. "Our government payers can play a leading role in accelerating the adoption of models that reward better quality care and pay smarter."