June 01, 2010
Florida: Facilities to offset losses in budget with 'bed tax'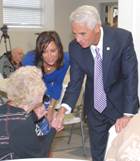 Florida Gov. Charlie Crist (R)

Lawmakers in April struck a budget deal that would slash payments to nursing homes by $300 million. It represented one of the largest reductions in the spending measure.


But helping to offset the cuts, nursing homes will be able to impose a "bed tax" on themselves. The tax would reduce the cut to $132 million, according to The Ledger news outlet.

In an editorial in The Tampa Tribune, J. Emmett Reed, executive director of the Florida Health Care Association, argued that the state has reneged on its 2001 promise to increase funding if nursing homes increase staffing in order to improve quality.Since the 2001 law mandating staffing increases, nursing homes have added 11,100 new nursing and CNA positions.
"On average, nursing homes staff at 4.2 total direct-care hours—well-above what the law requires," Reed wrote.