December 04, 2014
Final rule expands CMS power to bar providers from Medicare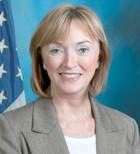 CMS Administrator and Secretary of the Medicare Trustees Marilyn Tavenner
Long-term care providers that consistently submit improper claims could have their Medicare enrollment revoked, under a final rule released Wednesday by the Centers for Medicare & Medicaid Services.
CMS understands that Medicare has "many rules and requirements" and that claims sometimes will be improperly submitted, the rule states. However, "constant, repeated and systemic claims denials" could indicate that a provider is not trying in good faith to understand and follow Medicare rules and should no longer be allowed to participate.
The government up to this point has not had the ability to revoke Medicare certification based only on repeated improper claims being submitted, as opposed to fraudulent billing practices, CMS clarified in the final rule. The agency identified a number of factors that will be weighed before revocation, including the percentage of claims denied and how long the provider has been enrolled in Medicare.
The 140-page rule includes a number of other provisions to expand CMS' ability to deny or revoke Medicare enrollment. If a manager has been convicted of certain felonies, or if an owner owes money to the Medicare program due to a former venture, a provider now could lose Medicare certification.
"This will help prevent individuals and entities from being able to incur substantial debt to Medicare, leave the Medicare program and then re-enroll as a new business to avoid repayment of the outstanding Medicare debt," CMS explained in a press release.
Click here to access the complete document. It is scheduled to be published in Friday's edition of the Federal Register and take effect Feb. 3.