October 01, 2013
Fewer residents given antipsychotics: CMS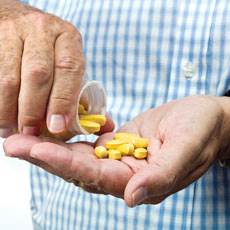 Proposed Medicare rules would tighten CMS oversight of nursing home prescriptions
Fewer residents with dementia are being prescribed antipsychotic medications, according to new figures heralded by the government and the nation's largest nursing home association.
Between the end of 2011 and the first quarter of 2013, antipsychotic use among long-stay nursing home residents dropped 9%, according to the Centers for Medicare & Medicaid Services. Eleven states have already hit a 15% target and "others are quickly approaching that goal," the agency reported. The 11 states are: Alabama, Delaware, Georgia, Kentucky, Maine, North Carolina, Oklahoma, Rhode Island, South Carolina, Tennessee and Vermont.
American Health Care Association-linked facilities are progressing even more rapidly. Since the end of 2011, AHCA members have reduced antipsychotic use 10.5% overall, and 42% of members, representing 3,391 facilities, have met the 15% target.