May 08, 2012
Federal investigation sought to determine source of prescription pain medication shortages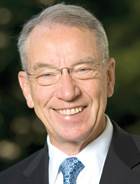 Sen. Charles Grassley (R-IA)
Top U.S. lawmakers are concerned that overregulation of prescription pain medications is causing an inadvertent shortage of the controlled — and often necessary — controlled substances.
Sens. Charles Grassley (R-IA) and Sheldon Whitehouse (D-RI) asked the Government Accountability Office to find out if a federal Drug Enforcement Agency limit on the production of controlled substances is causing a shortage. Current DEA laws set limits for drug makers on the volume of controlled substances they produce. These drugs include prescription painkillers and tranquilizers, drugs that are commonly used to treat nursing home residents.
The senators, both of whom sit on the Senate Judiciary Committee, said that prescription painkillers and tranquilizers appear often on the Food and Drug Administration's drug shortage list.
"The Drug Enforcement Administration has to walk a fine line between managing dangerous controlled substances like painkillers and making sure there are adequate supplies for legitimate medicine," Grassley, the ranking committee member, wrote in his letter to the GAO.
Lawmakers such as Sen. Herb Kohl (D-WI) have been outspoken in advocating for nursing home residents who need access to these medications for pain management.
Click here to read the full letter.