June 01, 2013
Every day learner, leader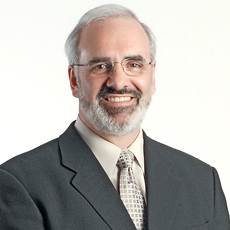 Christopher Laxton, executive director, American Medical Directors Association
For a man who describes himself as a "shy nerd" drawn to data and analytics, Christopher E. Laxton has mastered the role of leader.
"CEOs are very public figures, and my last 20 years of being a CEO has required me learning how to do that in a way that is authentic for me," he says. "That's been a fascinating journey for me. I learn every day."
Laxton is the son of two British citizens. The family, which includes an older sister, moved from England to Montreal when he was 6 years old.
He was back in the United Kingdom in his late teens, attending the United World College of the Atlantic in Wales. There, he learned how to kayak in rough conditions, a pastime he still enjoys. He also met his future wife, an American named Ann, who joined him at McGill University.
They married in 1977, and spent several months in Nepal from 1979 to 1980 while Ann did research for graduate school. In 1985, Laxton began his healthcare career in D.C., as the director of publications at the National Association for Home Care, now the National Association for Home Care & Hospice. Val J. Halamandaris, who hired Laxton, watched him advance to chief operating officer, then vice president of communications and information services.
"He helped take the organization to the highest level," Halamandaris says. "Chris was a visionary for where we needed to go."
After seven years leading the Association for Professionals in Infection Control & Epidemiology in Washington, D.C., and three years at the American Association of Diabetes Educators in Chicago, Laxton branched into consulting, which meant frequent travel. Taking on the role of Life Services Network of Illinois president in 2010 provided a chance to stay in Chicago. It also came with a big challenge because the previous president and CEO allegedly embezzled hundreds of thousands of dollars.
"There wasn't much transparency in terms of finances,"Laxton says. "We had to turn it around."
The work paid off: Laxton says LSN is filled with wonderful people. Karen Messer, LSN's interim president, says he was a "great mentor."
"His focus was on quality and building quality measurements in long-term care," she says.
The 60-year-old Laxton says he and his wife loved living in Chicago's Oak Park suburb, and their son, 24-year-old Jonathan, flourished there. (Daughter Sarah, 27, lives in Portland, OR). But the American Medical Directors Association executive director position proved to be an "encapsulation of everything that I had done."
"He has the ability to engage the group," says Matthew Wayne, M.D., a member of the AMDA search committee and former interim president. Laxton distinguished himself among the candidates, Wayne says, noting, "We're advocating for nursing homes, and Chris gets that."
Laxton says the best part of his healthcare career has been working "with thought leaders who not only have big brains, but big hearts," which he sees at AMDA.
"Long-term care isn't a field you go into for the glory, because there isn't any," he says. "You do it for the seniors."
1981
Graduates from McGill University in Montreal with B.A. in Classics; takes a Harvard/Radcliffe publishing procedures course
1995
Becomes the executive director at the Association for Professionals in Infection Control & Epidemiology
2005
Serves as the chairman on the committee on ministry at Unity Temple in Oak Park
2006
Leaves position of CEO at the American Association of Diabetes Educators
2008
Starts as a national examiner for the Malcolm Baldrige National Quality Award Program
2010
Begins as president of the Life Services Network of Illinois
2013
Moves back to the Washington, D.C. area to become head of the American Medical Directors Association