August 09, 2017
DOL drops defense of Obama overtime rule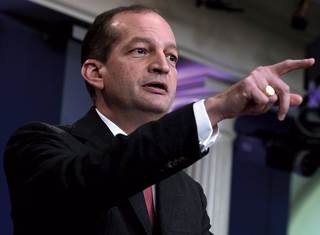 Department of Labor Secretary Alexander Acosta was mulling whether to overhaul the Obama-era overtime pay rule, according to court documents.
The Department of Labor's fight to enact an overtime rule that has caused anxiety for providers won't be continued by the new administration, according to court documents filed in June.
The rule would have nearly doubled the salary threshold for overtime exemptions to $47,476, which provider groups slammed as a "drastic" raise that could hurt facilities. A more gradual increase from the current threshold of $23,660 would have been preferred, groups said, and the administration may pursue one.
The rule, which was introduced under President Obama, was stopped late last year by an injunction. That soon was followed by an appeal from the DOL, as well as lawsuits from states. The government's appeal was dropped with the submission of a court brief in the U.S. Court of Appeals for the Fifth Circuit on June 30 requesting the court approve its authority to set a new, and likely lower, threshold. (For more, see page 20.)
The DOL is expected to request public comments to help develop a new overtime rule proposal, according to officials.