July 04, 2016
Disabled and seniors connect, thanks to a new tech program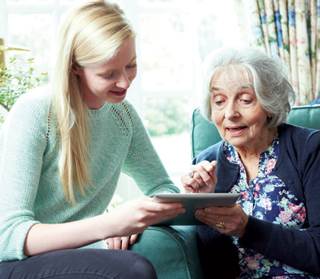 A job-training cafe is creating links between seniors and developmentally-disabled adults.
When Nancy Likens, director of the Soprema Senior Center and Café in Wadsworth, OH, first came up with the idea of using the café as a job-training site for volunteers from the Medina County Board of Developmental Disabilities in 2013, she wasn't quite sure how the two groups — senior citizens and adults with developmental disabilities –— would get along.
Three years later the participants are thriving, thanks to the launch of Tech Connect, a series of classes designed to help seniors and people with disabilities learn to text, email and use social media.
"There really are so many parallels between these two groups," Likens says. "Many of our seniors are losing abilities ... and that can lead to isolation," she says. "But I think that's why these two groups as so drawn to each other."
Every other week, adults with developmental disabilities — most of them non-verbal — are matched up with volunteers from the senior center, who spend the afternoon helping find their voice through the use of a tablet-like technology. The seniors help the participants learn the ins and outs of conversation, while those with a disability help their senior counterparts socialize and become more comfortable with technology.
The tablets — developed by Tobii Dynavox, a national company providing assistive technologies — are loaded with apps that can be personalized to help people better communicate their needs.
While the Soprema center is non-residential, the Tech Connect concept can easily be replicated within residential facilities, Likens says.
"There are so many developmental disabilities programs out there looking to get their folks out into the world," Likens says. "I can't encourage skilled nursing and assisted living communities enough to look into starting a similar program, because the friendships that have been formed are priceless."