October 05, 2015
Design Decisions: De-compartmentalizing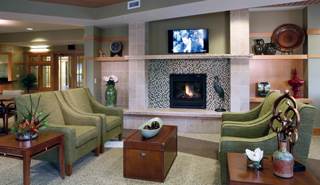 The renovations at Brandel Health & Rehab include a new resident lounge with a fireplace
In 2010, Brandel Health & Rehab at Covenant Village of Northbrook, IL, had to face a serious issue with aging. Not with its residents, but with its facility.
As one of the many built-in-the-'70s properties that dot the U.S. landscape, Brandel had to come to terms with a layout and interior design scheme that had grown obsolete and was in desperate need of a makeover. While some cosmetic work had been done over the years, leadership conceded that the time had come for a true renovation, says administrator Jonathan Kaspar.
So the continuing care retirement community launched a multi-year, multi-phase renovation project that incrementally changed the 36,860-square-foot building's floor plan, infrastructure and overall environment. The latest phase to be completed is a $1.2 million renovation of Honeysuckle Court, a rehabilitation wing with a capacity for 18 residents and features a modernized 1,867-square-foot therapy room. By removing compartmentalized office space adjacent the original gym, the design team was able to add another 480 square feet of therapy space.
The renovation gave designers several opportunities to add creative flair to the project, says architect Scott Likins, principal with BLDD Architects Inc. of Chicago. In one instance, wall beams prevented the complete opening up of the therapy room. But by adding an ornate screen wall, workers were able to make sure the room now has a decorative honeycomb centerpiece that still maintains an air of openness.
Another innovation is the addition of environmental graphic window treatments, which cover the windows for privacy but still let in sunlight while projecting a dandelion design as artwork, Likins says.
The 18 rehab units have been converted to one-person rooms with full private baths, upscale furnishings and flat-screen TVs, which Likins says is part of a "wow factor" that Brandel management was looking for with the redesign.
Meadow Court, which houses 32 long-term care residents, also received a makeover that consisted of wall and room removal to create a more open environment. The hallmark of that wing's renovation is a large resident lounge area with a home-like fireplace, wall-sized bookcase and accessible kitchen.
"The lounge area was created to make the residents feel special," Likins says. "By opening up the room we were able to capture corridor space so that it conforms with egress requirements but at the same time doesn't intrude."
Two other wings are Orchard Court, which has 28 memory support residents, and Chapel Court, another rehab wing that is currently undergoing renovation.
All the modifications at Brandel are in tune with the organization's dedication to de-compartmentalization and transparency, Kaspar says.
"It represents the highest emphasis possible on our residents through enhanced infrastructure and customer service," he explains. "We are meeting the expectations of a new generation of consumers."