July 01, 2014
Design Decisions: A flow of space and light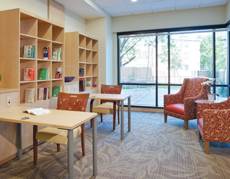 South Cove received a $19 million bond from MassDevelopment.
A new building has broadened South Cove Manor's horizons.
It's a 180-degree change for the Quincy, MA, long-term care facility that primarily serves the Chinese community. The move from Boston's Chinatown enabled South Cove Manor to evolve from a medical model to six neighborhoods that feature the siheyuan style of centralized courtyards. Each has a servery kitchen, activity room and gathering space designed for interaction.
"It's like living in an open plan house," said lead architect Tom Levi of Levi + Wong Design Associates (LWDA). "That's the intent. This plan really does encourage people to come out (of their rooms) … and participate with other people and feel very comfortable in doing it."
The concept flows throughout the building.
"A lot of places you can see from one end of the building all the way to the other," said Lyn Keithline, a South Cove Manor consultant. "If you walk into the main lobby, you can look to the right and see all the way to the end of the building through a glass doorway … and then all the way through the activity room that's on the other side."
Administrator Li Chen said a demand for care fueled the move and supersized the operation — the square-footage increased almost 200% to 88,000. The therapy area alone expanded from 400 to 1,900 square feet.
"This is a huge change in care from our previous location," said Chen. "The old gym was this tiny little thing. We could not fit in all the equipment, so some residents ended up doing some work in the hallway. Now it's a bright, nice (room) with glass. You can see outside in the background."
The May 18 opening ended an eight-year process, which included finding the new site — a former recycling center. All 97 residents and 90% of the staff made the move, according to Chen. The facility expects to add up to 50 full-time or part-time staff, given that a 25-person courtyard for short-term rehabilitation and 16 additional long-term beds increased capacity from 100 to 141 beds.
Natural light adds to the personality of the new space. Floor-to-ceiling windows are found in every common room, dining area, living room, activity room and the rehabilitation suite and library.
To enhance movement in the facility, locations of interest were established. The lobby includes a 265-gallon salt water aquarium with 15 species of fish, a water-wall feature and a tea room.
"As you first walk in (the lobby), there are areas … allowing residents and family to have a destination point on the first floor for people who might not be able to leave the building easily," said LWDA interior designer Mary O'Looney.
The non-profit facility's destinations include the unique Gallery of Veneration. Residents are invited to share a picture of themselves from their past and a part of their life history. The picture and words are displayed in a 24-inch by 30-inch frame. Ten residents have contributed to the collection and more are expected to follow.
Lessons Learned
It is essential to have a good working relationship with regulatory agencies when experimenting with new concepts and designs.
Tiny details, even such as where to place soap dispensers, can make a big difference.
Proximity to public transportation is important. This helped South Cove retain most of its staff.