March 23, 2011
DAY ONE: McKnight's 5th Annual Online Expo kicks off today with technology, wound care and capital webinars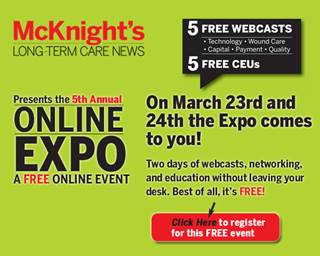 DAY ONE: McKnight's 5th Annual Online Expo kicks off today with technology, wound care and capital w
Today marks the beginning of the 5th Annual McKnight's Online Expo, the largest online trade show for the long-term care community. Free registration is still available online at www.mcknights.com/expo2011.
McKnight's "Ask the Legal Expert" column author John Durso, Esq., will lead the first webcast. Durso's session, "New technology, new legal challenges," will begin at 10 a.m. EST. Wound care expert Karen-Lou Kennedy-Evans, RN, CS, FNP, will host the next seminar, "Managing end-of-life pressure ulcers," at 11:30 a.m. EST. Wrapping up today's session will be Michael Hargrave, who will conduct "The changing capital landscape—what it means for you" at 1 p.m. EST.
Each McKnight's Online Expo seminar is worth one continuing education unit for those who apply. While content from most of the seminars will be available for 90 days following the event, only live attendees are eligible for CEUs. In addition to the five webcasts, the two-day expo features 24 vendor booths, where visitors can learn about products and interact with company representatives. More information, as well as free registration, is available online at www.mcknights.com/expo2011.