December 01, 2014
Day in the Life: After 97 years, she's a U.S. citizen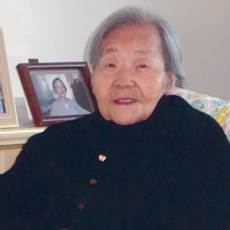 Chengyi Pan
It's reasonable to expect that the pace of life slows down after moving into a skilled nursing facility. But 97-year-old Chengyi Pan has been busy since her arrival at Sauer Health Care in September.
That month, she became an American citizen. The ceremony took place in a conference room at the 71-bed facility in Winona, MN. In November's midterm, Pan cast the first vote of her life. Living in China, she never was able to participate in a democratic election, her daughter Ting Ni explains.
Ni, a recently retired St. Mary's University history professor, said her mother immigrated to the United States in 2009 and was determined to become a citizen. Education is the family profession: Chengyi Pan , a physics teacher and vice principal in China, is a lifetime learner who is well-informed on both U.S. and Chinese news. Sauer workers help her by printing out Internet articles.
Even though it would be physically challenging, the elder Pan was prepared to travel to the Twin Cities for her immigration interview and oath-taking ceremony. Happily, the officials came to Winona.
"I didn't think this was a possibility," Ni says. (Also of note: the citizenship test can be waived after a certain age).
Some nursing home residents might think becoming a citizen is a "monumental task" and "just give up," but her mother's story shows that they too can achieve their dream, Ni says.