November 20, 2008
Daschle reportedly offered top spot at HHS, providers pleased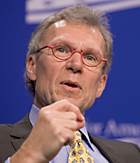 Photo by Ralph Alswang at the Center for American Progress

President-elect Barack Obama has chosen former Senate Majority Leader Tom Daschle (D-SD) to be the next secretary of the Department of Health and Human Services, several news sources confirmed Wednesday.

Long-term care providers expressed approval regarding the choice.

"I believe President-elect Obama could not have made a better choice than former Majority, Minority Leader Tom Daschle," South Dakota Health Care Association Executive Director Mark Deak told McKnight's. "Both as a friend and as a statesman I know how strong his interest is in healthcare in general and in long-term care specifically, so I'm absolutely thrilled to hear the news," Deak added.

Bruce Yarwood, president and CEO of the American Health Care Association agreed, saying in a statement: "Senator Daschle is a pragmatic problem-solver well versed in elder care issues and policy."

If nominated, the appointment must be confirmed by the Senate. Daschle, 61, who served as Senate majority leader from 2001-2003, not only would serve as HHS secretary, but also will be a "White House Health Czar"—a point-man on health issues, according to CNN.