July 06, 2015
Continuum is complete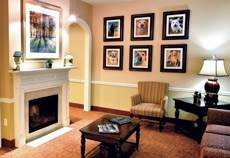 Continuum is complete
The leadership team at Edgewood Summit always has been committed to caring for the elderly population in Charleston, WV, but members also longed to expand their clinical service offerings in order to become complete. So when they opened their new memory care facility last year, they finally filled a critical void.
"Our board had always hoped to fill the entire continuum of care with one site, but because of regulatory and financial constraints, we weren't able to develop that critical part of the spectrum," says Executive Director Diane Gouhin. "But when the planets finally aligned, the board was ready to pull the trigger."
The $8.8 million, 30,300-square-foot Arthur B. Hodges Center stands apart from the main facility and is a self-contained structure. But it is part of the same campus and therefore meets Edgewood Summit's goal of putting the entire continuum of care on one site. By adding memory support, the campus serves as a continuing care retirement community, providing independent and assisted living, along with skilled nursing.
However, due to the difficult topography, it almost didn't happen, says Gene Guszkowski, senior principal at AG Architecture in Milwaukee, which oversaw the project with Greystone.
"The original building is situated on a shaved-off hilltop plateau, which made it a very difficult site," he says. "We struggled to find a buildable part of the land, but we did find it on an adjacent parcel that was smaller than we originally wanted. The challenge was that the hilltop soil was unstable and needed to be removed. So we dug a hole, built up a precast concrete retaining wall and filled it with firmer soil."
Groundbreaking began in the spring of 2012 and wrapped up 15 months later. The completed structure introduced approximately 40 new resident rooms, each with a private bath. Two 10-bed neighborhoods occupy the ground floor in a U-shaped layout while 20 second-floor rooms are for skilled nursing. The building also features a self-contained kitchen and a small pavilion for rehabilitation.
The neighborhood configuration gave the design team the opportunity to orient as many rooms as possible to view the area's mountain vistas, Guszkowski says. The two 10-bed sleeping wings of the memory care unit flow into shared common spaces that link the two wings together, creating a "household" environment, he says.
Because direct access to the outdoors was a priority, the first level opens to a "highly articulated" courtyard that creates a safe outdoor enclosure for the memory support residents and family to enjoy. In order to create an accessible outdoor space on the upper level, the building was "tucked" into the hillside so that there is direct access from the dining area.
Overall, the project exceeded expectations, Gouhin says proudly, because it went above and beyond what was needed. ν