March 18, 2013
Conference benefits without the hassle: McKnight's Online Expo kicks off Wednesday
Download:

2013 McKnight's Online Expo session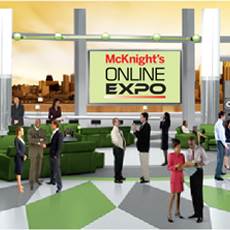 Six days to go: McKnight's Online Expo returns
Don't pack your bags, take your conference clothes to the dry cleaner or double check your business card stockpile. No travel is required to take part in the seventh annual McKnight's Online Expo, which starts Wednesday. Simply register for free online and join the expo from the comfort of your own computer.
The benefits rival any in-person event. Five webcasts will take place March 20 and March 21, featuring experts on the latest MDS 3.0 update, Immediate Jeopardy, wound care, finding capital in 2013, and the use of computer-animated characters to communicate with residents. Continuing education credits are available for each session.
At the Online Expo, you won't have to wait in line for a nametag to network with colleagues, and you won't have to fight any crowds at the virtual booths from top vendors. Another bonus: registering at mcknights.com/expo2013 is way easier than resisting the apple-filled pastries at the hotel breakfast buffet.