December 01, 2014
Coding surveys to expand soon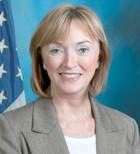 CMS Administrator and Secretary of the Medicare Trustees Marilyn Tavenner
Additional surveys to determine Minimum Data Set coding accuracy and nursing home staffing levels will occur in 2015 and should fix common problems, the Centers for Medicare & Medicaid Services announced in late October.
A pilot of the focused surveys ended in August, and found deficiencies in 24 of 25 instances.
Problems included inaccurate staging/documentation of pressure ulcers, as well as antipsychotic medication classifications.
New surveys are being implemented in all states because they improved the ability to identify errors related to coding, said the memo to survey agency directors. In some surveys, CMS reps will conduct interviews and review staffing records.