June 11, 2010
CMS provides updated MDS 3.0 training materials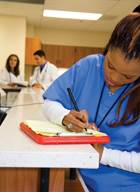 Healthcare worker attitudes toward flu vaccinations concerning, study suggests
The Centers for Medicare & Medicaid Services this week released new RAI (Resident Assessment Instrument) manual and MDS (Minimum Data Set) 3.0 informational downloads.
The new downloads include revised chapter 3 sections of the RAI manual. New MDS 3.0 training slides are also available. The original "pdf" files have been replaced with "PowerPoint" files for easier use, according to CMS. Also available are new MDS 3.0 instructor guides. Both the training slides and instructor slides include the revised sections of chapter 3 of the RAI manual. CMS has targeted the week of June 14 for the publishing of the remaining sections of Chapter 3 as well as chapters 1, 2, 4, 5, and 6. The MDS is a resident assessment tool.
CMS has also established a special e-mail address to deal with technical questions arising from the MDS 3.0. Access the CMS training materials at www.cms.gov/NursingHomeQualityInits/45_NHQIMDS30TrainingMaterials.asp.