March 19, 2010
CMS plans to reorganize, establishing new positions, offices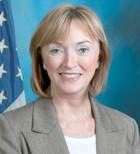 CMS Administrator and Secretary of the Medicare Trustees Marilyn Tavenner
The Centers for Medicare & Medicaid Services is proposing some major structural changes, according to an internal agency e-mail recently obtained by the National Association for the Support of Long Term Care.
The changes will primarily affect three areas—beneficiary services, program integrity, and strategic planning, according to the e-mail from Acting Administrator Charlene Frizzera:
The proposed structure will establish the position of the principal deputy administrator, the Office of External Affairs and Beneficiary Services, and four centers led by deputy administrators. Those centers are the Center for Medicare; Center for Medicaid, CHIP and Survey & Certification; Center for Program Integrity; and Center for Strategic Planning, the document said.
Frizzera has named Marilyn Tavenner as the principal deputy administrator. Peter Budetti was tapped to be the deputy administrator for Program Integrity. Frizzera will remain acting administrator at CMS. The changes have yet to be approved by the secretary of the Department of Health and Human Services but are expected to receive clearance in the next two months.
To read the full e-mail, which includes descriptions of the new departments, as well as brief biographies of Tavenner and Budetti, click here.