January 03, 2012
CMS nominee gains support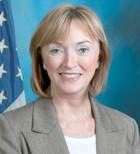 CMS Administrator and Secretary of the Medicare Trustees Marilyn Tavenner

Industry groups showed strong initial support for the appointment of Marilyn Tavenner to replace Donald Berwick, M.D., as administrator for the Centers for Medicare & Medicaid Services.

Tavenner "developed invaluable experience" in her role as Virginia's Secretary of Health and Human Resources, noted Alan G. Rosenbloom, president of the Alliance for Quality Nursing Home Care. Tavenner also got high marks from Mark Parkinson, president and CEO of the American Health Care Association and the National Center for Assisted Living.

Sen. Orrin Hatch (R-UT) said the Finance Committee panel would thoroughly vet Tavenner but did not immediately express opposition to her nomination, which may signal a sea change.