November 23, 2009
CDC: States have received about 44 million doses of H1N1 vaccine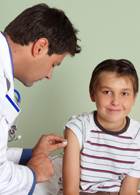 CDC: States have received about 44 million doses of H1N1 vaccine
A total of about 54.1 million doses of H1N1 flu vaccine have been made available as of last week, according to the Centers for Disease Control and Prevention Friday.
Of this total, about 44 million doses have been shipped to states. About half the doses have gone to children. Fewer seniors are likely to contract H1N1, but more are likely to die from it, according to a recent report.
Meanwhile, The Occupational Safety and Health Administration on Friday issued inspectors guidance on policies to minimize occupational exposure to the H1N1 flu. The guidance applies to workplaces with high-risk exposure. Hospitals, emergency medical centers, doctors' and dental offices and clinics will typically be the focus of inspection activities, OSHA said.