November 20, 2017
Carter to retire as head of AANAC, AADNS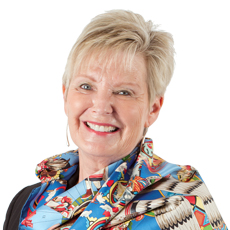 Diane Carter, MSN, RN, RAC-CT, C-NE, FAAN, will retire from her position as president and CEO of the American Association of Directors of Nursing Services and American Association of Nurse Assessment Coordination next spring, the groups announced Monday.
Carter, who founded the groups and has served at the helm of AANAC since 1999 and AADNS since its inception in 2016, plans to step down in April 2018. A search for her replacement will be taken up by the AANAC and AADNS Board of Directors.
Carter's decision to retire was driven by her interest in pursuing new policy-related endeavors, as well as the group's current state, she told McKnight's.
"The love of my life has always been policy and research, and I felt like the organization was doing just great and was on great footing," Carter said. "It was a time when we could have a very seamless transition from me to another CEO and there would be absolutely no interruption."
For whoever takes the helm upon her departure, the biggest challenge will be navigating how to support nurses and long-term care providers in an uncertain healthcare environment, Carter noted.
"At least every two to three weeks I hear about either cuts to healthcare reform, or cuts in the new tax plan where they're looking at cuts to Medicare and Medicaid. To this population that's the core, that's the meat and potatoes of what we do in this field," Carter said. "Provided one of these [bills] should pass, there's going to be challenges."
Board Chairwoman Carol Smith, RN, BSN, RAC-CT, said Carter "helped blaze a distinct trail for all of us as members with the same common mission to continue that journey; carrying on that tireless energy and unending passion for those we continue to serve."
Carter has previously worked for the Colorado Department of Health and the Colorado Health Care Association.