January 01, 2015
Bill would speed up post-acute coverage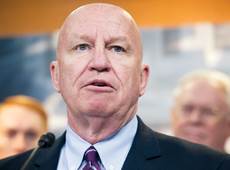 Rep. Kevin Brady (R-TX)
Observation stays would count toward establishing Medicare eligibility under reforms in a recent draft bill from the House Committee on Ways and Means.
The Hospitals Improvements for Payment Act of 2014 proposes a new hospital prospective payment system to be in place by fiscal year 2020. Its goal is to address problems with how short stays are reimbursed. Rep. Kevin Brady (R-TX), chairman of the Ways and Means Subcommittee on Health, put the draft bill forward in late November.
Medicare auditors have aggressively challenged claims for short inpatient stays in recent years, leading to a surge in appeals and a backlog, plus hospitals listing people as outpatients under observation, rather than as inpatients.
Under the proposed system, observation stays that stretch overnight would be categorized as Part A inpatient hospital services. These stays also would count toward the three days that individuals are required to spend as an inpatient to qualify for Medicare coverage of follow-up skilled nursing services.