December 13, 2011
Bill would require speedier Medicaid reimbursements to SNFs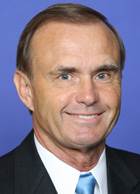 Rep. Brian Bilbray (R-CA)
Newly introduced legislation would require Medicaid to reimburse 90% of Medicaid providers, such as skilled nursing facilities, within 30 days, and any leftover claims within 90 days.
The Fair Pay to Medicaid Providers Act, as the bill is known, is bipartisan legislation introduced by Rep. Brian Bilbray (R-CA) and Rep. Anna Eshoo (D-CA). The bill would adjust current laws that only require prompt Medicaid reimbursements to physicians.
"Any delay of payment for care provided to patients can jeopardize facility operations and make it difficult to pay employees," said Bilbray in a statement. "This legislation guarantees that healthcare providers are paid in a timely manner so that they can focus on helping those in need without worrying about how they are going to meet their financial obligations."
Jim Gomez, president and CEO of the California Association of Health Facilities, says reimbursement delays are a burden for SNFs in his state.
"This has caused tremendous hardship for nursing facilities, forcing some providers to take out loans on retirement accounts and second mortgages on their homes in order to raise enough cash to pay employees," Gomez said.
The legislation, which was introduced Dec. 7, was sent to the House Energy and Commerce Committee.