October 19, 2009
Anti-lifting legislation picks up support from nurses and unions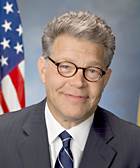 Sen. Al Franken (D-MN)

Nurses who are tired of manually lifting heavy patients have cause to cheer: A new piece of legislation has been introduced that would strongly encourage the use of mechanical devices when it comes to moving patients.

The Nurse and Health Care Worker Protection Act of 2009 (S. 1788) was introduced Thursday by Sen. Al Franken (D-MN). If signed into law, the bill would require the Occupational Safety and Health Administration to come up with guidelines that would eliminate, to the extent possible, manual patient lifting by registered nurses and other direct care workers. The use of mechanical lifting devices would be promoted. Facilities also would be required to create a plan to follow those guidelines. The bill strongly encourages input from RNs in the planning process.

More than half of RNs and direct care workers report chronic back pain, with 38% experiencing pain strong enough to merit leave from work, according to the Bureau of Labor Statistics. The numbers for long-term care nurses likely skew higher, experts note. The bill has drawn support from the AFL-CIO, United American Nurses and the Minnesota Nurses Association.