November 05, 2016
Angels against abuse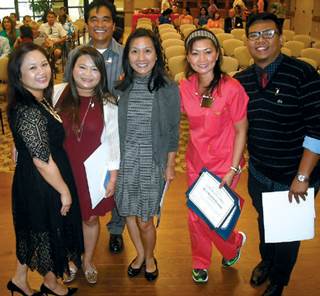 Angels against abuse
Search any news website for the phrase "nursing home" and your quest could return some less-than-stellar stories alleging elder abuse or neglect.
One California skilled nursing and assisted living center sought to change that, with a little help from the National Association of Directors of Nursing Administration.
Forty-seven certified nursing assistants at ParkVista Health Center in Fullerton, CA, took an oath during a recent celebration of their graduation from NADONA's "Operation: Guardian Angel" program.
The "Guardian Angel" CNAs participated in a course that taught them how to recognize and report suspected abuse, and to effectively communicate with residents' families and other care staff.
"This class was very informative, and it helped me to reflect and evaluate myself as a CNA," said Kimberly Lee, a CNA at ParkVista.
Lee read testimonies from all 47 CNAs who took part in the program during a ceremony attended by family, staff, residents and public officials, including Fullerton Mayor Jennifer Fitzgerald.
Suzanne Nasraty, administrator for ParkVista, said the Guardian Angel program will continue and be open to new CNAs as they're hired by the facility.
"The commitment by our CNAs to meet the standards of this program has been impressive, and a little overwhelming even," Nasraty said.