February 01, 2010
Alliance focuses on long-term services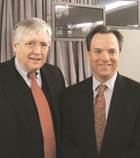 Larry Minnix (left) and Mark McClellan

A new coalition of long-term care stakeholders whose objective is to improve long-term services and supports formed in January.


Leaders of the Long-Term Quality Alliance said they want to enhance consumer and family caregiver experiences in nursing home and home healthcare settings.

Other quality-focused efforts have tended to focus on clinical services delivered in nursing homes—often overlooking the perspectives of consumers and family caregivers, said Alliance Chair Mary Naylor in a statement. The alliance's top priorities will include identifying promising performance and quality measures; recommending ways to implement those measures; proposing ways to reinforce current quality initiatives; and achieving improvements through pilot programs, demonstration projects and other efforts.


It will focus initially on the issue of unneccessary hospitalizations.

The group's 29-member board of directors comprises health, consumer, and policy experts.