February 23, 2011
Affordable Care Act provides $4.3 billion to strengthen non-facility long-term care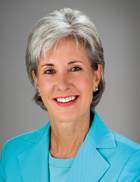 HHS Secretary Kathleen Sebelius
Health and Human Services Secretary Kathleen Sebelius announced Tuesday that the Affordable Care Act will provide additional funding to programs that help Medicaid beneficiaries move out of institutions—such as nursing homes—and into community settings.
Sebelius said 13 states will get more than $45 million overall in grants to launch the Money Follows the People program. That will make a total of $621 million to extend the program through 2016. Funding was originally expected to expire in 2011.
The Money Follows the Person program helps residents of nursing homes or other institutions find opportunities to go back to their own homes or communities. So far it has helped 12,000 individuals do this, officials said.
Additionally, HHS proposed rules that would grant all states access to approximately $3.7 billion in federal funding to the Community First Choice option program, which provides long-term care service and support. This program was started in October and allows states to get a 6% increase in federal matching funds for offering community-based attendant services and supports to Medicaid recipients.