March 02, 2012
Affordable Care Act authorizes $3 billion to keep elderly and disabled out of nursing homes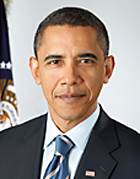 President Barack Obama
The Affordable Care Act has freed up $3 billion in grant money available to states looking to keep elderly and disabled individuals out of long-term care facilities.
The Centers for Medicare & Medicaid Services announced Friday that New Hampshire will be the first state to receive a grant — worth $26.5 million over three years — under the ACA's Balancing Incentive program.
The announcement reflects the "strong support" by the Obama administration to shift money from institutional care to community services for long-term care, federal officials said.
"No one should have to live in an institution or nursing home if they can live in their homes and communities with the right mix of affordable supports," said Cindy Mann, director of the CMS Center for Medicaid and CHIP Services.
The grants are in the form of higher Medicaid matching payments, which will be given to states that spend less than 50% of their total long-term care costs on community-based options, according to the CMS. Additionally, the grants must be spent on efforts to increase the availability of long-term community-based services and supports, such as transportation services, personal care aides, respite services, enhanced family care services and automated of enrollment services.
New Hampshire's grant funds will run from April 1, 2012 to September 30, 2015.