December 01, 2010
AAHSA: Republican chances of unraveling reform are slim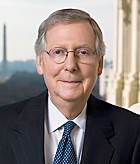 Sen. Mitch McConnell (R-KY)

Healthcare reform opponents undoubtedly will try, but they are unlikely to be able to undo the landmark healthcare reform law. So said experts at the American Association of Homes and Services for the Aging's conference last month in Los Angeles.

"We know the Republicans plan to have a vote on repeal out of the gate in January, but we think that's as far as it will go," said Barbara Gay, AAHSA's director of advocacy information, during a panel discussion. "We don't see the repeal strategy working for the next two years."

The major roadblocks for Republicans are the Senate, which is still dominated by Democrats, and the White House, which has veto power.

Gay added that repeal opponents could attempt to "de-fund" aspects of the reform law in an effort to halt it. But that has a slim chance of working, she noted.

Still, Republicans could attempt to trigger technical "corrections" that could present hurdles to implementation of parts of the law, she said.

AAHSA supports many aspects of the healthcare reform law, principally the CLASS Act, which will create a long-term care disability insurance trust. The American Health Care Association, by contrast, opposes many provisions, including one that steeply cuts Medicare funding to skilled nursing facilities.