December 01, 2007
A marriage of convenience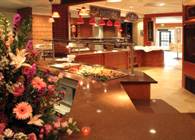 The Grille at St. Andrews Estates
While most new construction projects in long-term care aim to address market demands or to improve resident care, one Florida community used a new $5 million expansion project to combine the two objectives.

The recently dedicated Countess de Hoernle Hurricane Haven-Auditorium represents the creation of a multi-use 12,500-square-foot facility at St. Andrews Estates South, Boca Raton, FL. Named for longtime St. Andrews resident Countess Henrietta de Hoernle, the expansion project was made possible, in part, by a six-figure gift from her, as well as additional donations from fellow residents. 
"The expansion was an opportunity for the community to marry market need with practical needs," according to James H. Hudgins, Jr. of Atlanta-based THW Design. "It was also nice to see residents and the community work together toward a common goal." 
Seniors are increasingly seeking communities that dedicate adequate space for socializing and recreation, notes Hudgins. St. Andrews, which is owned by Philadelphia-based ACTS Retirement-Life Communities, created this space. The project included converting an existing bistro into a 98-seat capacity garden grill that offers cooked-to-order items. It also has an impressive chapel, auditorium and a 20-seat meeting room with a video projection system and video teleconferencing capabilities.
The 40-seat chapel is separated from the 250-seat auditorium by a movable partition, allowing the spaces to be combined for greater seating capacity. A state-of-the art audiovisual system, complete with a ceiling recessed wide-screen projection screen and projection system, is the centerpiece of the auditorium.
But the auditorium, which also features a 500-square-foot wheelchair-accessible stage and built-in electric Rogers Organ, is constructed to withstand the numerous hurricanes Mother Nature sends in the direction of South Florida.
"Although it is a very practical structure, the auditorium does not look like a hurricane shelter," Hudgins said, adding that the building was constructed in a way that  seamlessly expands the existing living environment at St. Andrews.
"Considering the recent hurricane events we've experienced, this project recognizes the need to expand our ability to keep residents safe and comfortable in the event of a reoccurrence," said Charles W. Coxson, vice president of Florida operations for ACTS. "And we are doing that while enhancing the amenities we offer."
The auditorium, chapel and meeting room building are capable of providing shelter for up to 350 residents, staff and visiting guests of residents, Coxson said. The building itself is made of solid 8-inch and 12-inch concrete blocks. The building's restroom facilities and power generator are sturdy enough to ensure that those seeking shelter in the space will be comfortable as well as safe, he said. In a pinch, the grill can be used to prepare the resident meals, he added.
The expanded generator capacity will allow St. Andrews to continue to provide full lighting, elevator service and essentially go above and beyond what the state requires of facilities, Coxson explained. 
Many providers have increased their levels of preparedness since multiple-death incidents involving long-term care providers occurred in connection with Hurricanes Katrina and Rita two years ago.
During hurricanes or severe weather ACTS employs a 24-hour crisis intervention team with satellite phones, and the company's Web site is updated every 24 hours with messages to inform off-site relatives about local conditions.