November 02, 2015
A few words about this guy called Larry Minnix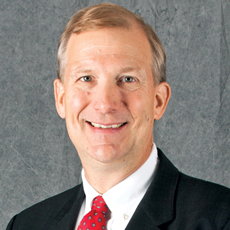 James M. Berklan
(EDITOR'S NOTE: This article was written for the print edition of McKnight's Long-Term Care News, before the announcement that Katie Smith Sloan had been named Minnix's successor.)
With the pending retirement of Larry Minnix as president and CEO of LeadingAge, I don't know whether to praise him or be fearful. I've always told him that he's such a good writer, he could take any journalist's job any time he wanted.
To have read a Larry Minnix column or letter is to have been in the hands of a master. It's where his genial, folksy nature penetrates your soul. Through his words, we've come to know Larry — and his countless friends and relatives. Without fail, their stories come with insightful lessons.
That's William "Larry" Minnix Jr. for you. Georgia native, holder of a Doctor of Ministry, congenial and frank.
A LeadingAge staff member once told me that Larry held up at a staff meeting a column I had written. The topic was something about providers needing to stop talking and start showing results since they had just been granted some sort of accommodation by regulators. "He's right!" Larry exclaimed to startled staffers. "This is no time for excuses!" (Interestingly, Larry never told me about this himself. It was obviously more important to get his message across to immediate family first.)
Larry has been an outstanding leader for LeadingAge for the last 15 years, some say the perfect rudder for a massive vessel that could easily wander off course with so many different mission-driven member groups.
Staff members past and present speak warmly of the way he built dedicated teams. That is critical when you're No. 2, as LeadingAge is in many ways when juxtaposed to the American Health Care Association. The latter, which includes the major for-profit chains LeadingAge is devoid of, can play bare-knuckled politics that LeadingAge just can't, and doesn't really want to, match.
Again, that's where the Larry factor has come into play. Following his lead, LeadingAge has creatively developed technology, research and other groups to further members' aims.
The broad grin, silvery white hair, hearty appetite and folksy references have led some to underestimate him. But Larry Minnix is dumb like a fox. He's nobody's fool.
Larry has earned a break, where he can enjoy his extended family and use his words any way he wants, on any schedule he wants.
Good luck to whoever's next. There aren't appropriate words to describe just how big the shoes are you're going to have to fill.