July 01, 2014
A Day in the Life: Strong connections brewing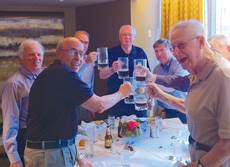 Members of the Beer Group
Men gather around a table and clink mugs of frothy beer. It's a common sight in restaurants, bars, kitchens — and the dining room of The Clare, a Chicago continuing care retirement community.
Between five and 10 men participate in the beer tasting and dinner each Monday, says Director of Dining Services Brian Hughes. The designated "host" brings two or three brews, with Hughes sometimes recommending options to go with the night's food.
One benefit of the activity is that it involves men, who risk being underserved by senior living social programming. But Hughes says there also are events that bring together the Beer Group and a women's wine group — the "Winos."
Independent living residents currently participate, but Hughes is open to doing similar events for assisted living or even nursing residents. Already, the groups create bonds that hold strong as participants move into different parts of the CCRC, he says.
Hughes himself is a good spirits guide, as he follows Chicago's "booming" craft brewing scene. He's shared his expertise in Beer 101 events and says that some residents now are no longer "stuck on one specific brand." Even self-proclaimed beer experts have gladly admitted that they've learned a thing or two, he notes.
So, the Beer Group has an education component as well as being a dining and socialization activity. As Hughes says, it engages "mind, body and soul."