May 02, 2011
60 seconds with...Kathy Greenlee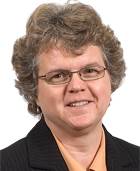 CLASS Act changes in the works

Q: What are the administration's two big goals for implementing the CLASS Act insurance program?

A: Consumers can choose their own services (and) CLASS should be open to all American workers who meet the requirements, regardless of their health history.

Q: What's a key option you're looking at to strengthen the program?

A: We are determined to engage with employers to make enrolling in CLASS as easy as possible.

Q: After reforms and tweaks are ironed out, what comes next?

A: We will present three solvent benefit plans as certified by the CMS Office of the Actuary to the CLASS Independence Advisory Council. The public at large will also have an opportunity to comment. The feedback will be considered before the Secretary [of Health and Human Services] designates a final benefit plan by Oct. 1, 2012.

Q: Will it be worth all the hassle?

A: At some point in our lives, nearly 70% of us will need daily help because of a disability. CLASS is not the equivalent of private long-term care insurance, but it certainly should be one of the tools in our toolbox to help Americans plan for and afford long-term services and supports.