April 01, 2010
60 Seconds with...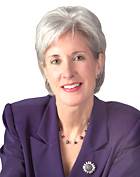 Department of Health and Human Services Secretary Kathleen Sebelius

Q: What do you think of controversy surrounding the government's nursing home rating system?

A: The suggestion that it's a flawed snapshot because it forces the reviewers at the outset to make decisions that may or may not be accurate … I think that's serious criticism that needs to be looked at.

Q: What do you suggest?

A: We need to have some standards; they need to be clear, need to be accurately measured and if everyone ends up being excellent or everyone ends up being failing, so be it. But somehow this sort of bell curve [for "grades"] seems to have some inherent flaws.

Q: So tweaks to the system can be expected?

A: Absolutely. We need to make sure it isn't flawed inherently. But should we have a rating system? You bet.

Q: You're really tuned in, aren't you?

A: We're very sensitive not only to pushback from the industry but also to the need that when we do apply a measurement, it needs to be able to withstand the scrutiny of does it really accurately reflect quality? You want to help drive quality and actually help inform people if there is a home or series of homes that really doesn't measure up.