September 16, 2014
$1.3 million settlement marks second recent deal over SNF supervision of therapy providers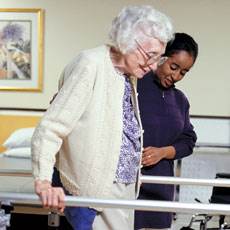 $1.3 million settlement marks second recent deal over SNF supervision of therapy providers
A Maryland nursing home company has agreed to a $1.3 million settlement over charges that it did not prevent overbilling by its contracted therapy provider, federal authorities announced Monday. This is the second such settlement this month involving therapy company RehabCare Group East Inc.
Nonprofit nursing home company Episcopal Ministries to the Aging Inc. engaged RehabCare to provide therapy at the William Hill Manor facility in Easton, MD, according to the Department of Justice. RehabCare allegedly engaged in a variety of unscrupulous practices, such as disregarding patients' clinical needs to place them in therapy levels with high Medicare reimbursements, the False Claims Act lawsuit charged.
"Today's settlement demonstrates the department's continued commitment to safeguarding both Medicare beneficiaries and taxpayer dollars by holding accountable all entities involved in billing for unnecessary services, including those that did not directly provide the unnecessary services," stated Stuart F. Delery, assistant attorney general for the DOJ's Civil Division.
Federal officials made similar statements on Sept. 5, when announcing a $3.8 million settlement with two other long-term care companies that had worked with RehabCare Group East. Providers have taken note. Some have argued that it is unfair for the government to target nursing homes and should limit these cases only to the therapy providers themselves. But leaders in the field have emphasized the need for oversight of contractors.
"I can't stress this point enough: the provider is ultimately accountable for the products and services that are delivered through contracts," LeadingAge President and CEO Larry Minnix wrote in a blog post Thursday.
RehabCare Group East, a Kindred Healthcare subsidiary, disputes the allegations that it ran afoul of Medicare rules. It is cooperating with a Department of Justice investigation, according to a statement emailed to McKnight's.
"The intense therapies provided by RehabCare in skilled nursing facilities create improved patient outcomes including an increase in patients discharged home with shorter lengths of stay and with greatly reduced rates of rehospitalization," the statement read.
Episcopal Ministries had not responded to requests for comment as of press time.