January 25, 2016
How to encourage use of courtyards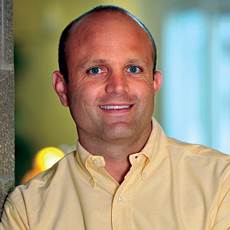 Michael Hass
I recently visited a very well-run health center with assisted living, memory care, and skilled nursing. The context of the visit was to talk through expansion options because census is high and there is demand for short-stay rehab in their beautiful setting. In short, everything is going well for the community and its residents. But along the tour, the executive director pointed out a lovely exterior courtyard with lush landscaping and interesting sculptures. "The sad part," she said apologetically, "is that no one ever goes out there and we don't know why."
This is only the most recent time I've heard something very similar about attractive (and expensive) courtyards in the senior living environment. Here are tips to help subtly encourage usage of these great amenities.
First, courtyards can be, but usually aren't about lovely landscaping. There is a deeply innate human desire to engage with the outdoors, feel sunshine on the face, smell fresh air, and enjoy a pretty view. I'm certainly not advocating bare concrete or dirt, but I do think we tend to offer great plant life as the primary draw when other things will get people engaged.
My No. 1 critique of most courtyards is that they are entirely enclosed without a view to anything other than another wall of the health center. That was certainly the case with my recent encounter. In communities that are already built, it can be hard to create a new vista. I recommended adding more glass to one side to try to create a view through the building and out to a ravine behind the building. In planning stages, consider a three-sided courtyard oriented towards a far-off view or a bustling street or just some taller trees. Elopement can be addressed with a trellis if fencing feels too institutional. Looking at four walls of the same building in which a resident spends all day isn't really a draw.
Another common cause of the empty courtyard is that the courtyard itself feels like a decision. In other words, if a resident has to "decide" to go out there, they probably won't. The most heavily used courtyards I've seen are "on the way" to someplace else. Maybe they separate the assisted living and the skilled neighborhoods, or divide the residential wings from the common spaces. A courtyard should be something in the path of travel, not just a way to use up open space in the back. If you can make a courtyard to parallel an indoor corridor, you'll find that people, staff included, will make it a pleasant detour and increase traffic out there. This might also mean easier to operate doors with more glass so that it feels like a part of common circulation.
Speaking of doors, try providing at least one doors onto the courtyard from each side of the building. I see so many courtyards that have one door, usually from the dining room or living room (not "on the way" anywhere). This, again, makes the courtyard a destination rather than a path and doesn't draw anyone to use it. If the courtyard was the connector to two neighborhoods, staff and residents alike would be more inclined to pause along the way and enjoy the setting. Be sure to include senior-friendly benches and places wheelchairs can pull off the path in groups and alone.
Likewise, the courtyard should include a combination of full-sun, full-shade, and filtered light resting spots. When we provide an all-or-nothing approach to sunshine, the transition from indoors to outside is so drastic that it, again, becomes a deliberate choice to use the courtyard. Perhaps the most important piece of advice I have is to create a transition space outside each door that moves a person from inside to part outside to fully outside. The most heavily used courtyards I see have a veranda outside the door so there is a bit of transition between fully indoors and fully out. Something in human nature wants to make a more gradual shift between private places and public ones.
Obviously all these ideas presume that a resident is free and able to move throughout the spaces in their environment and that no physical barriers or limitations restrict it. Blowing trash and dead plants are assumed to be non-issues. And activity-oriented engagements like raised planters and edible gardening certainly encourage usage of these great spaces. But the more subtle issues with almost subconscious implications will make these places the true attraction we all want them to be.
Michael Hass is a managing partner at Drive Development Partners. He can be reached at mh@drivedp.com.