September 10, 2012
Louisville leads the way in aging care innovation
Kindred CEO Paul Diaz

As the business of aging care evolves to reflect widely-documented population shifts, coupled with a generation of retirees that want to stay at home as long as possible, the city of Louisville, KY, has become both a hotbed of innovation and a training ground for companies and personnel in this sector.

A 2006 study of Louisville's healthcare footprint revealed an existing concentration of aging care company headquarters. The city was already home to major industry players including Atria Senior Living Group, Inc., Elmcroft Senior Living, Humana, Res-Care, Inc., Trilogy Health Services LLC and Kindred Healthcare, Inc. Thereafter, Louisville began a concerted effort to grow its long-term wellness and aging care sector to foster the kind of collaboration and innovation in the field of aging care that has developed for concentrated niches in other market sectors in other areas of the country.

In 2010, Sig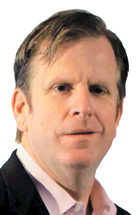 nature HealthCARE, one of the largest providers of long-term care services in the Eastern and Southeastern United States, relocated its headquarters from Florida to Louisville. Several other companies in the aging care field also have either relocated to Louisville or expanded their Louisville operations in recent years to take advantage of the proximity to other companies in the field and the concentration of talented employees.


Today, Louisville is the world leader in aging care innovation. If it involves how America and the world will care for the burgeoning aging population, we are working on it in Louisville. That's because Louisville is home to companies that employ more than 18,000 professionals locally, generate $48 billion in revenue annually and employ more than 200,000 people nationwide.

Companies such as Kindred and Signature are creating centers that are more amenities-focused than traditional nursing homes. One such center, Kindred Bridgewater, provides short-term rehabilitation and long-term care and will be used as a model for facilities across the country. Typically, most patients stay at Bridgewater about a month and then return home.

Signature, which historically focused on acquiring struggling facilities, is now building its own from the ground up, incorporating some with private rehabilitation suites and other hospitable features.

Many of the more than 100 communities operated by Elmcroft across the country offer such amenities as cafes with meal and snack options, and a wider variety of recreational activities including movie theaters, libraries, and outings to art museums and other cultural attractions.

In-home care is increasingly in demand, and is now more affordable due to advanced technology. One model created by Louisville-based ResCare, the nation's largest provider of home care services, is Rest Assured, which offers video and sensor monitoring, medication reminders and telecaregivers.

Ensuring that Louisville will remain at the forefront of aging care innovation is a partnership between Signature and the University of Louisville that has created the nation's first aging care accelerator – the International Center for Long Term Care Innovation (Innovate LTC).


Innovate LTC is focused on garnering investment capital for new products, service models and technology – connecting entrepreneurs to established organizations in Louisville with the buying power to make their ideas reality.

The idea is to create adaptable, aging-friendly environments and products. For example, tomorrow's retirees may want to engage with their world through online services, such as intergenerational gaming with their grandkids. Innovate LTC works with companies around the globe, including a Dutch company called Vita Care that enables seniors who are no longer mobile to sit in a chair connected to a TV showing videos of people dancing or scuba diving, for example. The chair moves with the action on the screen, engaging participants both cognitively and physically in adventures they wouldn't otherwise be able to enjoy.

Next up for Innovate LTC is an invention playground of sorts, where the latest products and innovations – such as the "Ultimate Transformer" mat table, developed by California-based Therapeutic Industries Inc., will be showcased. The multipurpose mat provides back support for patients, reducing strain on physical therapists handling the patients, while also allowing patients to perform rehabilitative exercises.

Louisville-based companies also are taking advantage of their close proximity to each other to collaborate in developing future talent through training and education efforts in the aging care industry. For example, Trilogy Health Services, Elmcroft Senior Living and Signature HealthCARE have partnered to create a professorship focused on geriatrics at the University of Louisville School of Nursing. The professorship will train advanced practice registered nurses to work with the growing geriatric population. The three companies committed a combined $180,000 over the next three years for the effort and an additional $30,000 per year during that time for student scholarships and jobs with these employers upon graduation.

We believe that companies in the aging care industry must understand that the "me" generation isn't about to settle for their parents' nursing home facilities. The concentration of aging care companies in this city is maximizing close proximity to create innovative responses for the future.


Paul J. Diaz is the CEO of Kindred Healthcare. Ralph G. Gronefeld, Jr. is the President and CEO of ResCare. Pat Mulloy is the CEO of Elmcroft. E. Joseph Steier, III is the President and CEO of Signature HealthCARE.